Driftwood, Starfish, Solar Power, Cockatoo, Margarita……reads like the makings of a sweet summer getaway on some beach, some where. Also, the names of some of our spring 2012 fashion colors.
Each season PANTONE, creators of the most widely used and recognized color guide in the world, surveys designers to gather information on their color inspirations, philosophy and collection choices. This information is used to create the PANTONE Fashion Color Report, which serves as a reference tool for fashion retailers, stylists, the media and you. Visit their site to uncover designer's inspirations, must have garments, color tools and to download the entire PANTONE Fashion Color Report. View the quick reference guide here.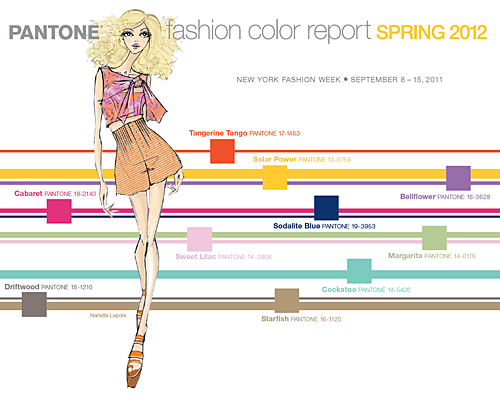 Delicious color palate, right? But what if you don't own garments in any of these colors, can't afford to go out and buy a whole new wardrobe or the colors look icky (that's a word!) drapped across your skin tone? Accessorize with color! Pair basic garments in neutral colors with affordable pieces. Try tying a colorful scarf to a classic bag and pair it with a basic A-line taupe skirt and inexpensive Sweet Lilac top.
Now try the same basic skirt paired with a sweet textured top in Margarita and bag in Tangerine Tango.
Fashion Tip  :: Splurge on your basic garments like this clean-lined, well-fitting skirt. Take care of it and you'll wear it season after season.
Sunnies  :: Steve Madden
Purse  ::  Aldo